{These are not movie reviews per se and may contain spoilers}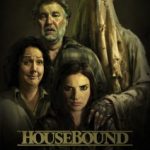 The only time my wife will sit down to a horror movie is Halloween weekend. She selects the fare off of Netflix, and I get to see some suspense/horror that is beyond my normal Cushing/Lee/Price diet. This last Halloween weekend we sat down to Housebound, a 2014 New Zealand horror comedy about a young neer-do-well woman confined to house arrest in her mother's creepy house. There is some detox going on, and the movie has a slow build. At one point our junky herione wakes up to a maniacal sounding Teddy Ruxbin. C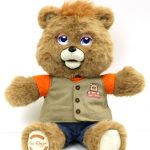 reepy, almost interesting, seemed mostly nostalgic. One of her next selections was The Awakening, a 2011 British horror movie set in 1921. The plot is apropos of nothing in this post. However, our heroine breaks into a wall at one point to find a teddy bear that is repeating recorded clues to the mystery. Seemed a little hi-tech for the time period.
So the personal rule for synchronicity is three obscure references within 24 hours from non-related sources.
The two above movies were chosen by someone else and had nothing else in common than being suspense fare on Netflix.
As often happens, my wife fell asleep soon after midnight and I eventually gave in to insomnia and returned to the living r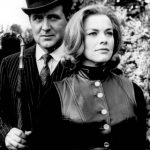 oom. My insomnia watchlist at the time included starting the second season of the 1960s British TV spy show The Avengers. The first episode of the second season the evil genius bad guy talks to our heroes Steed and Gale through, you guessed it, a speaker in a teddy bear.
When I was 6 weeks old, I was given a stuffed bear with a music box in it. My mother had imaginatively named him Theodore. I was told the music box worked once but since I was never given a straight answer so I assume that it was another victim of my father's violence. Theodore has somehow survived the years and the travels and now lives on a shelf up in the guest room. He's never spoken to me, not even during my craziest days. I don't think looking for a stuffed bear to talk to me is the meaning of the synchronicity.
I just finished The Lovecraft Code by Peter Levenda. His first fiction book, it's a wannabe military thriller with lots of second-rate Cthulhu musings and plot. No surprises, we learn that 'the stars are right' whenever there is a mini-nova in the constellation of the Great Bear. It is also implied that the Old Ones speak to their minions from Ursa Major. Get it, talking bear? Nah, not going for it. It just seems a pale imitation of Robert Anton Wilson's Sirius theory. How many stars are supposed to be talking to us?
(a recently submitted essay)
During the last presidential election cycle, we heard often about America's debt and how terrible it is for all of us. When the Tea Party was all the rage, many Tea Party identified candidates held up the National Debt as an example of how the federal government was out of touch. "I have to pay my debts, why doesn't the government" was the common refrain heard. Is this a realistic attitude to have? How bad is the deficit? Sure we are all taught that when we talk about the deficit we are supposed to emphasize the first syllable in TRIL-lion with incredulousness but in the grand scheme of things should we be worried?
As of the second quarter of 2016, the average American household owed $132,158. This includes credit cards, mortgages, student loans, and auto loans. That is a total debt of 12.29 trillion dollars (Issa). According to the latest data from the Census ACS survey, the average household income in America in 2015 was $55,775 (US Household Income). This means the debt owed by the average American household is 237% of their income.
As of December 1st, 2016, the official debt of the United States Government was 19.9 trillion dollars (Agresti). This is 107% of the United States Gross Domestic Product.
Comparing the percentage of debt for the average American household and the Federal government, we quickly get the impression that the percentage of debt for the Federal government is not as big of a worry as one would think from the rhetoric that we have heard.



What changes our perception is when we compare the current percentage to our historic high as a nation. As part of America's spending during World War II, we reached a point where our National Debt was 121.70% of the Gross Domestic Product in 1946 (United States Government Debt to GDP). The past 10 years is the first time since the 1940s that we have risen above 80%. The good anonymous people over at Culture-War.info call over 80% the "Danger Zone". They also think a percentage over 100% turns the nation in a communist one (Anonymous).
When we compare our debt percentage to other nations, the United States is 11th from the top with Japan's debt being 229.20% of their Gross Domestic Product (United States Government Debt to GDP). Another thing to consider is the United States' credit rating. In 2011, Standard & Poor famously decreased the United States of America's rating from AAA, the highest there is, to AA+, which is merely excellent. The United States still retains a AAA credit rating from other agencies (United States Credit Rating).
This I think brings us to the crux of our argument that the national debt is not a horrible concern. While the percentage of debt to Gross Domestic Product has risen to over 100%, we must keep in mind that this is after a deep recession, a large bailout of the automotive and banking industries, and the United States still being entrenched in the longest 'military action' in the nation's history. As a nation we still have an excellent credit rating and, as the adage goes, "credit depends on trust in the ability to repay" (Mayhew).
Money is not the concrete object it was a century ago. Credit, debt, money in general are abstract concepts that we use to 'keep score'. There is nothing intrinsically valuable about, say, gold. It is the almost arbitrary agreement we make about what is currency and what, like salt, is now just a table setting. We are not going to run out of a tangible amount of 'money'.
America is still a nation that other nations want to invest in because they have faith in our ability to repay. The beginning of this century has been a bit of a rough one for the United States. The fact that we have weathered bailouts, a recession and an ongoing war against a ethereal enemy as we have and that we show only the debt we do is amazing. This shows the amount of belief that creditors have in the United States.
WORKS CITED
Agresti, J. D. (2016, December 3). National Debt Facts. Just Facts. Retrieved December 4, 2016 from www.justfacts.com/nationaldebt.asp
Anonymous. (2011, April 06). U.S. Federal Debt. Retrieved December 04, 2016, from http://www.culture-war.info/USFedDebt.html
Issa, Erin El (2016). American Household Credit Card Debt Statistics: 2015 – NerdWallet. Retrieved December 04, 2016, from https://www.nerdwallet.com/blog/credit-card-data/average-credit-card-debt-household/
Mayhew, A. (2013, February). Why There is Nothing Scary about the U.S. National Debt. Retrieved December 04, 2016, from http://www.scholarsstrategynetwork.org/brief/why-there-nothing-scary-about-us-national-debt
United States Credit Rating. (2016, December 4). Retrieved December 04, 2016, from http://www.tradingeconomics.com/united-states/rating
United States Government Debt to GDP | 1940-2016 | Data | Chart | Calendar. (2016). Retrieved December 04, 2016, from http://www.tradingeconomics.com/united-
US Household Income. (2015, September). Retrieved December 04, 2016, from http://www.deptofnumbers.com/income/us/
Recently, a patron that I've been instructing on website creation hipped me up to the symbiotic relationship between wolves and ravens.
Wherever there is a pack of wolves, there can be found a conspiracy of ravens. (The fact that a group of ravens is even called a conspiracy makes it even more noir) As far as pure efficiency, a pair of wolves work best in bringing down as much meat as they need to eat. However, wolves tend to run in packs of 4 or more.
Now a single wolf is capable of taking down a moose on its own and quickly consuming 9 pounds of its kill. So a pack could take down a moose or two and eat enough quickly to discourage carrion birds. However evidence suggests that wolves hunt in conjunction with ravens in order to accommodate for both the pack and the local conspiracy of ravens. A 2 pound raven will easily eat twice its weight from felled game. So wolves form larger packs than the 2-unit couple, so that they may net enough meat to feed a pack and a conspiracy.
What my patron postulated nest was the kicker. This relationship, which seems to extend to ravens being aerial reconnaissance to wolf packs, really signifies that both species are bi-lingual, according to my wildlife specialist patron.
Take your own time and dip into the intertwining mythology of the hunter, wolf and raven. Such symbiotic relationships between predator and prey are common in the animal kingdom, as well as American politics. The insinuation that there is a interspecial communication going on with packs and conspiracies is downright delicious.
So I Learned.