I love an incongruous thought twixt seemingly unrelated media. This time it started with the film Ator: the fighting eagle, a sandals and sorcery yawner that even Rifftraz couldn't make interesting. But I watched it enough to know that the bad guy was the Spider Lord. You could tell he was a bad guy because, duh, spiders.
The next day I read through P.K. Dick's Do Androids Dream of Electric Sheep. In order to show use the android's lack of empathy they take a captured spider away from their dimwitted host. "Cut off it's legs ad see if it can crawl with only four of them". While they sit and watch a TV celebrity (an undercover android) declare that empathy is a hoax, the android Pris is at the kitchen table with a pair of scissors, mutilating what could be the last spider in the building.
1st repeat of a theme is happenstance, the 2nd is coincidence….
My next read, Under the Green Star by by Lin Carter, a classic Burroughsian fantasy. I'll talk about it more in my DAW reads. The pertinent part to our thread here is when the hero fights a a giant spider to save the obligatory princess. The spider is a monster, an "albino vampire".
—and the 3rd is a communication…
"The Bugs are not like us. The Pseudo-Arachnids aren't even like spiders. They are arthropods who happen to look like a madman's conception of a giant, intelligent spider, but their organization, psychological and economic, is more like that of ants or termites; they are communal entities, the ultimate dictatorship of the hive…..Their warriors are smart, skilled, and aggressive—smarter than you are, by the only universal rule, if the Bug shoots first. You can burn off one leg, two legs, three legs, and he just keeps on coming; burn off four on one side and he topples over—but keeps on shooting. You have to spot the nerve case and get it . . . whereupon he will trot right on past you, shooting at nothing, until he crashes into a wall or something."
We have in a short time random media introducing the spider as a loved pet, then a helpless mutilated plot device, a fierce adversary, and then our ultimate inhuman enemy in an interstellar war.
The last quote is from Robert A. Heinlein's Starship Troopers, a novel I am struggling philosophical with as I re-read it three- and a-half decades since my first time through. It is Heinlein at his most right-wing, hiding behind 'hip libertarian' language. But notice the image of the 4 legged spider brought back. Here again the android, in this case Heinlein's military mouthpiece in his power-armor, mutilating the spider. It's ok for our military hero though, he has an alien opponent whom he has further 'othered', calling them "Bugs".
This is what dehumanizing, 'othering', does. It is us giving ourselves permission to ignore our empathy so that we may create 4 legged spiders, ultimately dehumanizing ourselves.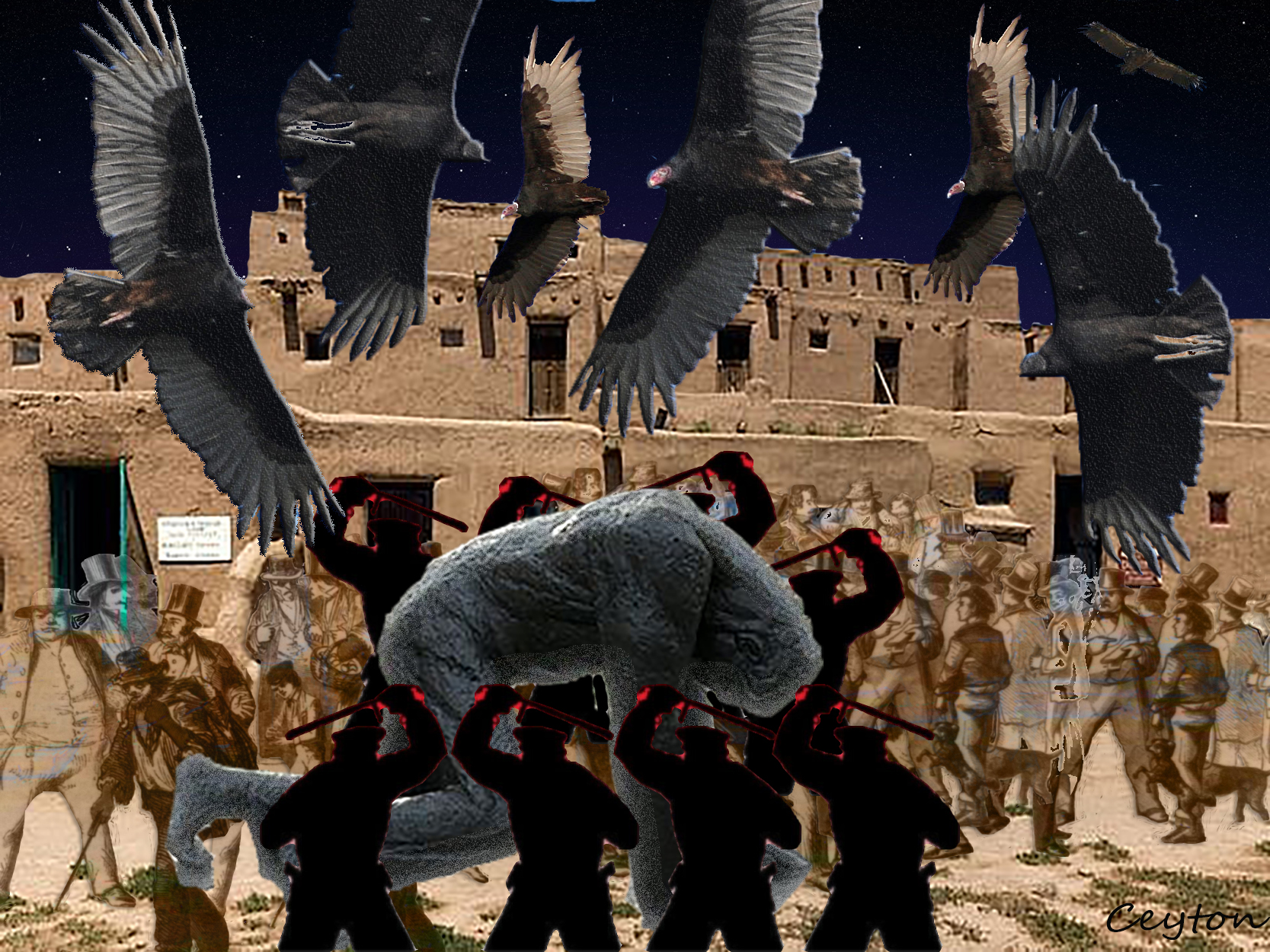 I come to life stumbling.
The roads are dirt, my feet are bare and the only way i seem to keep my balance is by bending forward while pedaling back with my feet. Every step is a lurching jerk. I have to pull my shoulders back before i trust my body to respond and let me slow my pace.
Great effing Horus, i must be drunk. I try to blink the blur away, and squint to see the edges of form, but to no avail. As my attention from my balance wanders, the next step on my left i lose my balance. Slow down, I've been here before, I've got this, I tell myself. Thrust left hand out grip invisible rail and swing right food around extra on its next step, stumble twice on right and raise right palm up and away.
Inches away from a startled woman. "Tthorry" I slur, lurch left and stumble on.
As the grey-out fades me back in i realize I'm in the middle of a rather wide dirt street, surrounded by dull brown buildings. It's night and people are out and milling. Most ignore me, except for those who step out of my path, glancing back to make sure I'm not dangerous. I do my best to glare back and then realize I'm approaching this all wrong.
I manage to stop without falling over, fooling my dumb balance by reaching out and pressing against non-existent walls quickly on one side then the next telling myself i can somewhat stand. I sway for a minute or two triumphant.
I slowly bring my arms up either side of my head, breathing out and drop on my ass.
"Ugh-Oh!" I cough as I land on my bottom in the dirt but I seem to be ok and stable in my lazy lotus position.
No one seems alarmed. Maybe drunks are normal in this town.
Where am I? How did I get here? Why am I so drunk? I keep swaying back and forth and my left hand twitches like I'm having a seizure.
Someone grabs me by the neck and throws me on a flat surface. I can't help but start babbling, trying to explain I mean no harm but all that comes out is nonsense and drool. I try to rise and only succeed in vomiting on myself.
That's when the beatings start.
Kept in a dirt room for days, I am beaten often. My tormentors all seem cut from the same mold: large, arrogant and brutish. Straight out of central casting. No matter their race or gender, not a one under 6′, all thick & broad shouldered. One of them has fists like large rocks and biceps bigger than my head. Sometimes he gets disgusted by me and hits me till my world grows black
They are angry when I talk. Even when I attempt to mimic whatever language they speak, I am kicked and hurt.
Sometimes there are others, they examine me and discuss me like I am meat.
One of them, Ahmed I will learn later, has me cleaned and carried away. I am his now. I don't know why. Maybe he was told to.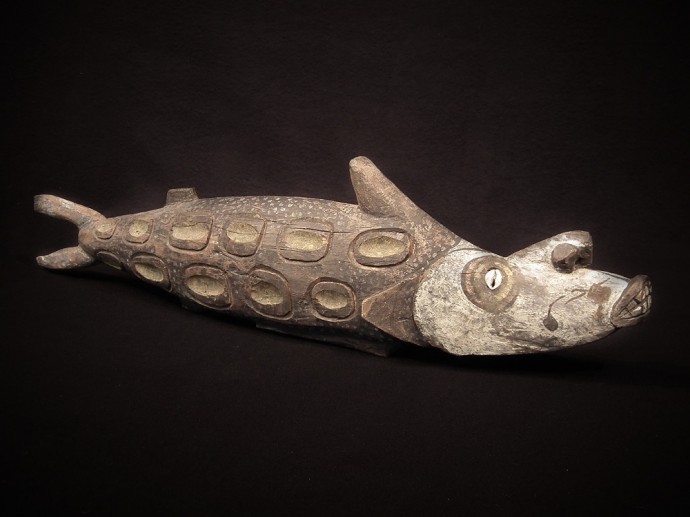 I dreamed I was standing feet away from a murky lake in Peru, where you hunt the large lizard-fish. Johnny called them the Mi-Go, which shows you his lack of ability for remembering detail. The books said they were simple to catch & beneficial to eat. So there I was. Standing on the edge, staring into a cloudy reflection, a large pool the colour of semen, the consistency of bubbly bath-water. i was nervous, fuck it, i was scared, the mere idea of being underwater, unable to see, unable to breathe, wrestling gilled lizards the size of men.
My fears were unfounded. I found a specimen almost as soon as I entered the water. It was docile & i was quickly dragging it out of the water, it's surprisingly flesh-like back clasped to my naked chest. I carried the gray-green amphibian to my nearby abode I insisted on calling The Shack, though it was up a story of bare stairs. The inside was also stark, white, barrack-like w/ two cots & a sink on the left. In the middle of the room stood a silver reheating pan, w/ remnants of sliced up sausages & onions littered on the bottom, somehow reminding me of Jean Paul. I was sure he had been here previous to me. Always one step ahead that Jean. I shouldered the large catch onto the bed on the left & turned to the person on my right, who hadn't been there before. Without words they assured me we could stretch the catering pan to accommodate the fish and cook it using burning wood. When I turned back away, they were gone again.
I was squeamish about cutting into the thing with a face combining the worst of human and cod. I down the knife and decided to stall by checking the back supplies. The cupboards were full of canned goods, & a refrigerator opened in front of me. Replacing the door out of the building, there was now a side hallway lined w/ iron-bar doors on the north side. Through the doors i could see dozens of metal shelves w/ boxes of canned & bottled foodstuffs, & even some bagged dried vegetables. I returned to the main room & looked at the large dead fish lying gaped-mouth on the bed. I still wasn't up for cutting in to it so i lay on the second cot & took a nap. The next few days i avoided the fish-cutting by finishing as many other preparations as possible. Finally I had the silver pan stretched, the fire started & the Mi-Go (?) laid out. I started an incision at the base of the spine and quickly decided to avoid furthering the bloody mess. Time to add garnish. I had taken some dried mushrooms, an onion and was grabbing some bottles of tomato juice for my permanent hang-over. The back of the store-room opened up, some industrial lights turned on and I saw some olive-skinned men moving in the back. One of them saw me & started apologizing that the store-master was unavailable and that they would be open later. I realized the foodstuff was not the property of the shack nor mine to take. Undeterred, i stared at the man and placed two American fives on the shelf in front of me. He said nothing. I had either paid for my pillage or added another footnote to the White Man as arrogant thieves.
Back in the main room they were all there, all my aspects, ready for the ritual. We lit the candles and vibrated the opening words. I wasn't ready. My hangover got the best of me and i passed out. I awoke in an armchair, sandwiched by incubus and succubus. I was too dazed to fight it and lay there overpowered by the feeling of flesh.
This probably would've continued on had not the Mi-Go (?) broken the spell. It lay on the cot again, my vision zoomed in to watch it's head take on a human appearance. The shock woke me up and i stepped back into the hallway. The Mi-Go (?) had grown arms, muscular and human, and was crawling across the floor towards me, trying to scream for water. The cut i had made in its back winked obscenely at me. I was scared. I had almost killed and eaten something so close to human. Would it come back with Deep Ones seeking vengeance? Was i cursed for my intent and causing harm to the creature? As it crawled into the storeroom water bubbled up from the stone floor and the creature sank underground, still silently screaming for the ocean. I had either failed or barely escaped damnation. The world went blank.