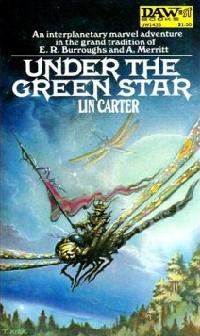 Burroughsian. I tend to use the term for two different currents of thought. Here we mean it for Edgar Rice, and not William S.
Lin Carter was a huge fan of Burroughsian heroic adventure. There are countless imitators of ERB. Lin Carter, at his best, can be judged against the master.
The premise is simple. Our crippled yet wealthy protagonist learns soul-casting or astral travel from Eckanar and an ancient Tibetan tome.
Let's clear up the term Eckanar. This is a New-Age religion founded in 1965 by Paul Twitchell. The religion does teach that the Soul, or True Self, is able to separate from the body and travel across planes of existence in order to reach and conjoin with G*d. The term itself, according to the church, is to be translated Co-worker with G*d, which is the stated aim of their spiritual practice. It is not necessarily a "science of soul-travel", as I've seen in many reviews and blurbs about this book. Another example of sloppy scholarship gaining a life of its own.
Lin Carter wasn't the best writer, his quality varies. This sword-and-planet novel has thick, flowery prose, which I enjoy but is certainly not to universal taste. My next read of this I will pick out all the fun vocabulary words to share.
There are heroic 'elven-esque' warriors, fierce giant sized monsters, a shifty adversary, and stunningly beautiful women. One of these women is a strong bandit queen, another … well this is where it gets a bit problematic.
The love interest is a 14 year old princess. "She was young, a girl, a mere child: she looked perhaps fourteen when I saw her first in the Great Hall of Phaolon." Later, Lin skirts around the age issue, pontificating on how the Green Star society doesn't measure time like we do and not actually coming out and stating the princess's age. She is very definitely described to look like a young adolescent. The word 'lithe' is thrown around a lot.
This pretty much ruined the re-read for me. My exploration into an inner bibliography has let me re-examine so many of the tropes that shaped me and all these 'lithe' love interests and 'swarthy shifty' bad guys are indicative on why ridding myself of this type of thinking is an on-going struggle.
All said and done, this a great example of the flawed (E.R.) Burroughsian tradition, warts and all.