During, but not necessarily because of, the pandemic, I stopped providing freelance tech support and consulting.   Reasons to remain personal. And since 2017, I have not been available through the Victor Farmington Library (cuz I needed dental).
Today I met with Bianca from Legacy at the Fairways Assisted Living and Greta from the Library and we put into motion plans to utilize a grant given to the Victor Farmington Library for providing tech help to the elderly.  I will be available alternating Saturdays at the Legacy and conversely at the Library from 9am-1pm starting in December and regularly in 2022.
I will be available by appointment only at both.  The grant is limited and I have a spouse whose company I enjoy so if no one signs up, I'm not showing up.   I charge the Library by the hour so once the grant money is spent, we will see if there is enough demand to get a new grant or figure out some other way to pay me.  Legacy will historically not pay me out of its corporate coffers.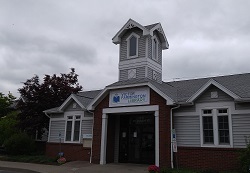 To make an appointment at the Legacy you have to be a resident.   To make an appointment at the VFL you have to call 585-924-2637.  No library card needed, no residency or age limit check.  Mask required.
I know my way around Windows, Android, Chromebooks, and Kindle.  I am proficient at iPhones, iPads, various printers, Google Homes, and Alexis. I have never owned a Mac, which means I'm going to take a little longer to suss it out.  My Google Fu is strong.  Linux?  seriously go home and do it yourself.   All Apple hardware problems should be taken to your nearest licensed Apple expert, which I am not.
Most importantly I am patient, experienced, and calm.  No question too small.  I can walk you through email, social media, bluetooth and Office.  I am not your therapist or your buddy.
So once again, I will be know in the halls of the Legacy as "Andrew from the Library".  I have been called worse.